Year 3 Round Up Summer 1 Week 5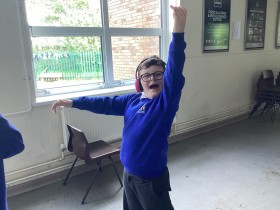 Year 3 had the famous "pink headphones" out again today, to launch our science topic...PLANTS :) The children get amazingly absorbed and it's the perfect opportunity to use their previous learning from KS1. We were able to recall the main factors needed to grow plants and could work out the 7 life process from the clues given. The children then worked with their partners to find out the functions of: roots, stem, leaves and flower.
We began our own version of a warning story this week and the teachers can't wait to see how the children build the drama and tension. It's been great to see how well they are using language and ideas from all the reading so far this year. By the end of next week, they will have begun their own warning story...the sky's the limit!
Questions to ask this week:
*How would you work out 1/4 of 24?
*Solve 1 - 2/8 (one subtract two-eighths) using a bar model to explain.
*What disaster happened to Mitch and Connor in your story? 
*Why do plants need roots?
*How do you sing "Head, shoulders, knees and toes" in Spanish?!