Year 3
Welcome to Year 3. What an exciting year this is going to be! We have a wide range of topics, concepts and learning to cover in order to give your children a fun filled, balanced and engaging education.
First we would like to introduce ourselves and our roles in Year 3.
Mr Millington (Class Teacher)
Mrs Pemberton (Class Teacher M-T)
Mrs Evans (Class Teacher W- F)
Mrs Fellowes-Campbell (Teaching Assistant)
Miss Wincott (Teaching Assistant)
In Maths, we use a mastery approach that will continue to develop the skills in solving calculations efficiently. To make sure children fully understand, we are going to continue to use practical resources such as Base Ten, counters and unifix cubes, before moving onto written methods. Along with your support, we will be teaching your child to be fluent in the key areas of maths through frequent and varied practise. This will develop their confidence with numbers and help to recall facts accurately and rapidly. We are also continuing to use Mathletics to support your child (see link below). Tasks will be set up to three times a week, but children can also access games and take part in challenges.
In English, we explore a wide variation of text types by looking at language and features used before planning, writing and editing. Our main theme will be building a clear and imaginative character description. In order to do this, we will study the descriptions written by authors such as Roald Dahl and David Walliams. You can help your child by reading regularly and discussing the words used and the impact they have on the reader.
A few things to remember:
3M have PE every Monday
3PE have PE every Tuesday.
(Please ensure your child has the correct, named, P.E. kit for these days)
Please encourage your child to bring their library book into school every day.
Homework:
Spellings are tested every Friday.
Reading should be completed daily and signed by an adult.
Mathletics to be completed at least 3 days per week and don't forget to sign up to your parent account to track children's progress.
core-api.3plearning.com/ParentCentreService/ParentRegistration.aspx
If you have any queries or concerns please do not hesitate to book in with your class teacher, who will be happy to help.
Latest Photographs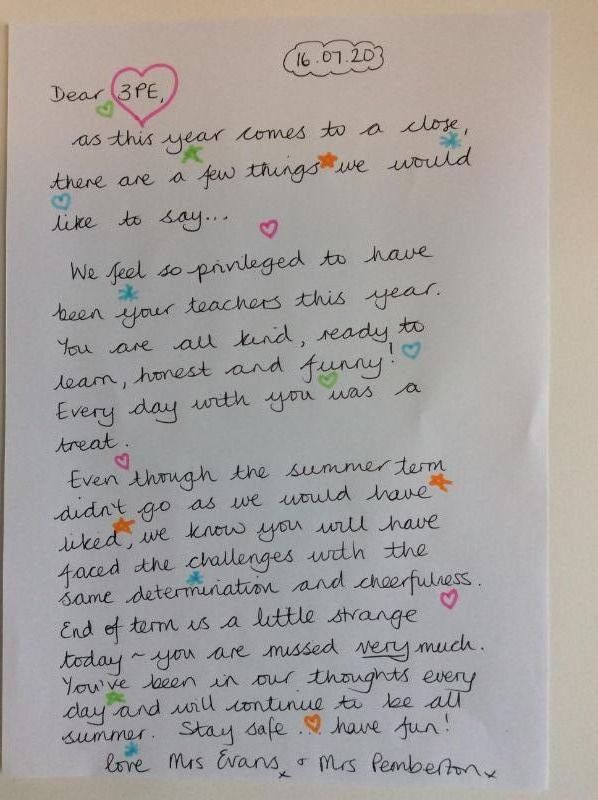 A little friend arrived in the post from Ireland!
Amazing artwork showing hope and positivity.
Yum! Hidden in a high cupboard!
Class Photograph
&nsbp;