Ready to Progress - Catch up Programme
Catch up Programme - Is your child ready to progress?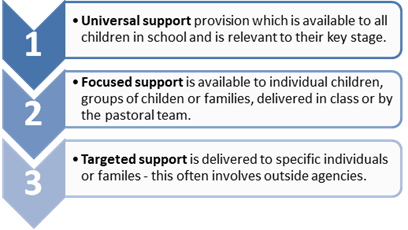 At Turves Green Primary school we are supporting our children, so they are 'ready to progress' in the year group they are now in. We are committing time to the whole school community to ensure that routines, expectations, standards, relationships and school values are quickly re-established. For every child getting children emotionally and academically ready to progress in their learning is key. For some the high-quality teaching in the classrooms will be sufficient to support them, others may need a little additional support. Our Ready to Progress Catch Up programme, outlined below, is spilt into three strands – curriculum, pastoral support and routine and expectations.
At all times we are aware that some children will need more time than others to adjust and 'return to normal'.
Targeted curriculum

An adjusted timetable

This will give teachers more time to focus on basic skills of reading, writing and mathematics. We are working on a two-week timetable to allow children to spend more time on our fantastic topics, art, science and computing.

Assessments in the first

few weeks

This will form a baseline and allow teachers to identify any gaps in learning. We can find out what the children have remembered from before lockdown, what they have learnt and what we need to give more focus to.

Ability groupings in phonics sessions in Years 1 and 2.

This enables teachers and teaching assistants to give targeted teaching of early reading to each child, based on their current need. Phonics taught daily and with rigour, revising sounds that children may have forgotten

Additional catch-up sessions in Maths

Some of the summer term content had not been taught and so additional Maths sessions have been added to the timetable to allow this teaching to take place.

Topic and English linked

The Topic curriculum has been linked closely to the English curriculum so that what we teach in Topic sessions complements skills taught in English.

Peer interactions

Planned interactions through oracy activities and paired learning in all curriculum areas support and motivate children

Parent meetings

All children will have a parent meeting over the phone so that teachers can share what they know about the child with parents and we can ensure partnerships between school and home remain strong.

Pupil progress meetings

These are meetings which happen regularly between teachers and members of the senior leadership team, including the special needs coordinator where we can talk about how the children are getting on and whether the support provided for them is correct. We can then agree if any changes need to be made.
Professional development

programme for teaching

staff

All teaching staff will access professional development to support subject knowledge, assessment for learning and providing remote learning opportunities

Additional support for teachers early in their career

Experienced mentors and coaches assigned to those early in their teaching career to provide additional support and guidance.

Pastoral support

Personal social and emotional lessons in class

We have two PSHE lessons timetabled each week. These will initially focus on enabling our school community to become agents of hope, allowing structured conversations around the changes in the country.

Good communication between home and school

School will communicate with parents and carers via newsletters, the school website and twitter to ensure information is shared efficiently. Parents are encouraged to call or email with any questions or concerns.

Daily assemblies

These will be held in classes to avoid large groups of children gathering together, this will allow greater depth of conversation around messages of hope, togetherness and connections. Successes for the week are celebrated and recorded in memorable moment books.

PE lessons focus on fitness

Children's activity levels increase to provide opportunities for increased physical fitness.

Routines and expectations

Revisit school values regularly

Regular reminders to children to be ready, respectful and safe

Creation of class charter

Discussion with the children about their rights and how their behaviour helps others to enjoy their rights.

Continued use of house points system

This will enable staff to foster good learning behaviours and link this reward with the school values.
Targeted curriculum

Additional teacher time

Some children need a bit more support from the teacher, the teachers and teaching assistants will discuss who needs additional support in the classroom and will make sure they spend a bit extra time with these children.

Flexible grouping

Flexible grouping allows the teaching staff to target their support to individuals

Scaffolded support for those who need it

Ensure that appropriate groups receive additional support in lessons but that this additional scaffold is withdrawn as soon as possible to enable children to develop independent learning skills.

Blended learning for those who are unable to attend school

Teachers to provide a blended learning offer to enable learning to continue for those who are isolating. This learning mirrors that which is occurring in the classroom to enable children to return to school without having missed key concepts.

Pastoral support

Pastoral support for families in need

Pastoral manager to make contact with families who have experienced difficulty, trauma or changes in circumstances to offer support and signpost to additional advice.

Acknowledge when children need respite from learning

Allow children who need it quiet time to reflect, support, time and space if they are feeling overwhelmed.

Support for children with special needs

Special Needs Coordinator (SENDCo) to be in touch with families of children with identified SEND to detail support that is in place.

Blended learning – identify need around internet access

Identify families who have no Wi-Fi or devices to facilitate access to electronic home learning opportunities. Provide paper copies of learning as necessary.

Routines and expectations

Regular reminders for those struggling to follow distance and hygiene measures

Ensure that children understand reasons for measures and remind those children not following expectations.

Attendance issues

Teachers to identify children who are not attending and notify pastoral manager so that follow up calls can be made if necessary. Support around attendance provided as necessary.
Targeted curriculum

From the assessments it might be clear that children need additional interventions

Additional one to one and small group sessions identified by any gaps noted in the baseline assessments will be put in place. If necessary, SENDCo to support specific children and liaise with family and external agencies

What interventions might my child receive?

Small Group

Peer Precision Teaching

Sound Training

Barrier Games

Black Sheep (speech and language) STILE

One to one Read Write Inc.

Precision Teaching

Direct Phonics

Word Wasp/ Hornet

Cued Spelling

Friends for Life

Circle of Friends

Time for Talk

Socially Speaking

Cued Spelling group

Overlearning

Toe by Toe

Power of 2

Maths 1,2,3

Pastoral support

Additional pastoral support

One-to-one sessions for children who need it for specific trauma, referral to external agencies as necessary.

Support for children who are in receipt of support from children's services

Transfer of information for all vulnerable families through contact with social workers, family support workers or other external bodies.

Routines and expectations

Attendance support

Conduct home visits for any children who the school has particular concerns around attendance.

Behaviour support

Regular contact with parents of individual children who are struggling to follow the school values, additional support provided for these children.
How do I find out more about this?
Your first port of call is your child's class teacher. To talk to your child's class teacher simply phone the office (0121 464 3686) or email us on enquiry@turvesgreen.excelsiormat.org They will then be able to give you a call back to talk through your worries. Members of the senior leadership team are also available to help.