Forest school - 2018/19 - Year 1 first visits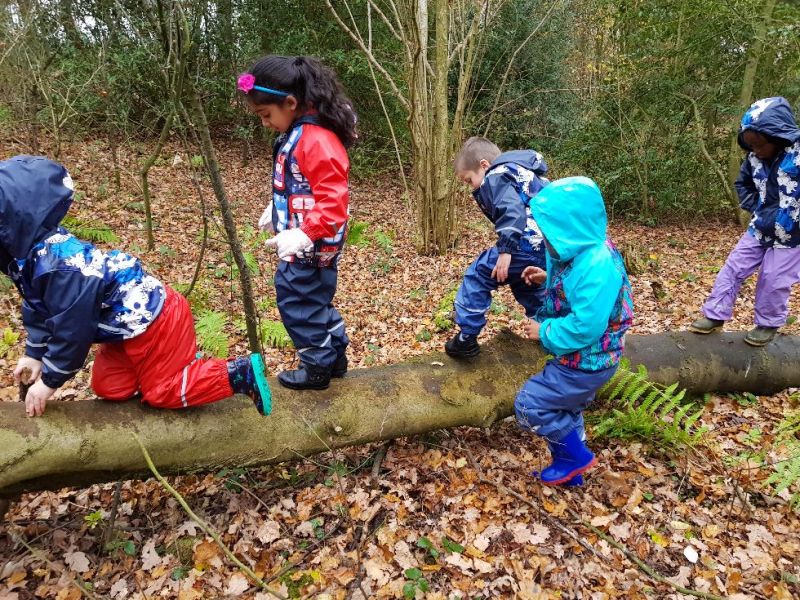 Year 1 began Forest school in November and all of the children are getting used to being outdoors for the afternoon.
All 4 of the groups have learned our Golden Rules of No Picking and No licking.
Every session we count all of the children by playing our Sticky Glue game and we all help to keep each other safe.
So far all of the groups have explored the basecamp area, where there is a huge fallen tree to climb on. Some of us have even stood on the end of it and jumped off, others have pulled on the end of it and bounced our friends around. We have also built dens around our friends and hidden in the den.
All of the groups have also explored over the bank. This is a large area with fantastic climbing trees and lots of fallen trees and wood which had lots of lovely creatures living underneath. So far we have found beetles, woodlice and worms. I bet there is more to find.
When it rains we have a wonderful mud patch which we all have lots of fun jumping in.
We have also made some bird feeders using cheerios and pipe cleaners, but the birds haven't eaten any, they must be finding enough food.
All of the children have learned about evergreen and deciduous trees in their Science learning and we have spotted both types of trees at Forest school.
The children are so excited to go each week and can't wait to see what else they can explore.
Group A 20/06/2018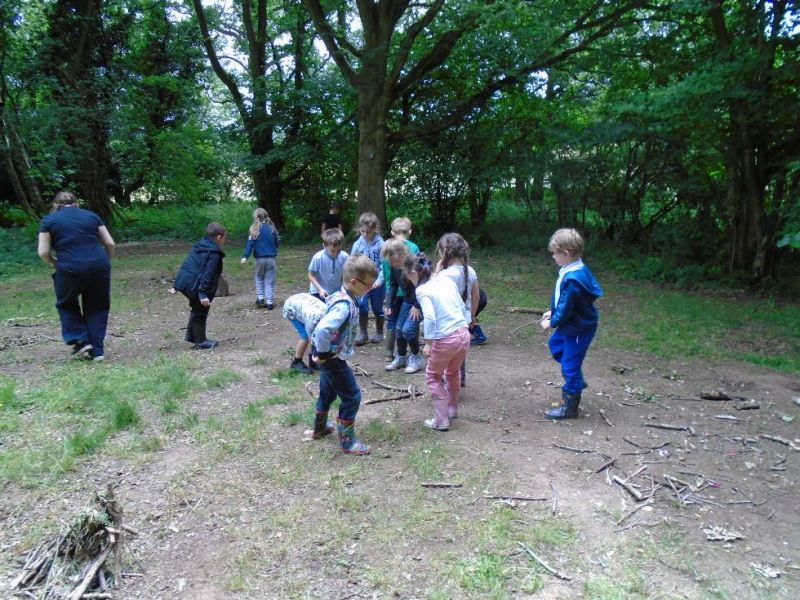 This week is group A's last time at Forest school so we decided to have a celebration and have a small campfire.
Our first challenge was to collect lots of dry sticks and lay them over the top of some larger sticks to keep them off the floor and dry. We might need lots of these sticks to keep our campfire alight. Mrs Neild showed us all of the things we would need to be safe when making a campfire. We needed dry kindling wood, newspaper, cotton wool balls, firelighters and a flint which created a spark to make a fire.
We built a fire square and drew a line so that we knew where to sit in order to stay safe.
It took a few minutes to get the campfire to light and it felt warm.
We all sat around the fire and sang some campfire songs.
We watched the fire for a while and then we used lots of water to put the fire out safely.
We went and looked around forest school for the last time and got to choose some activities to celebrate our time there. We hope you like the pictures.
Group D 13/06/2018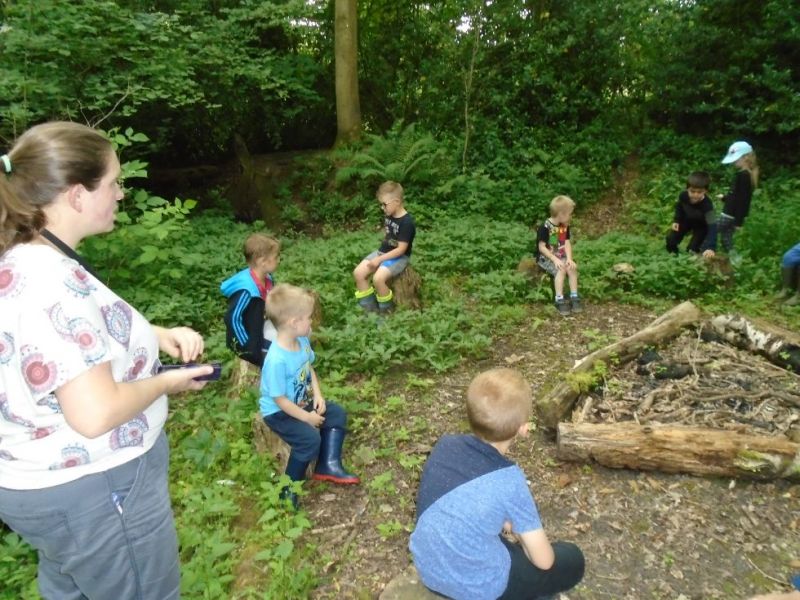 This week group D visited forest school and we discovered the clearing at the bottom of the Forest.
The teachers noticed that even in a week, the clearing had started to grow grass. We noticed lots of new flowers as we walked down to base camp as well.
Once we discovered the clearing at the bottom of forest school, we spotted new trees and some plants which we found out were poisonous, they were called Foxgloves. We also managed to find a mushroom at the bottom of a tree. Our rules at Forest school are 'No picking, no licking' so that we can all stay safe.
Some of the children chose to climb the trees and they showed amazing team work by helping and supporting each other when they were unsure. Some other children decided to use sticks, leaves and stones which they found at the site, to make shelters for ants and other bugs and even some art work. Some of the children decided that they wanted to stick the sticks into the ground to make a taller shelter for mice and rabbits but the ground was too hard. The teachers showed the children how to use tools to make a point on the end of a stick so that it would stick in the ground. Some of the children used water to soften the ground and even then it was too hard to stick the sticks in. Some of the children then used water and things they'd found on site to make a potion. It looked wonderful.
We can't wait to go again.
Group C 06/06/18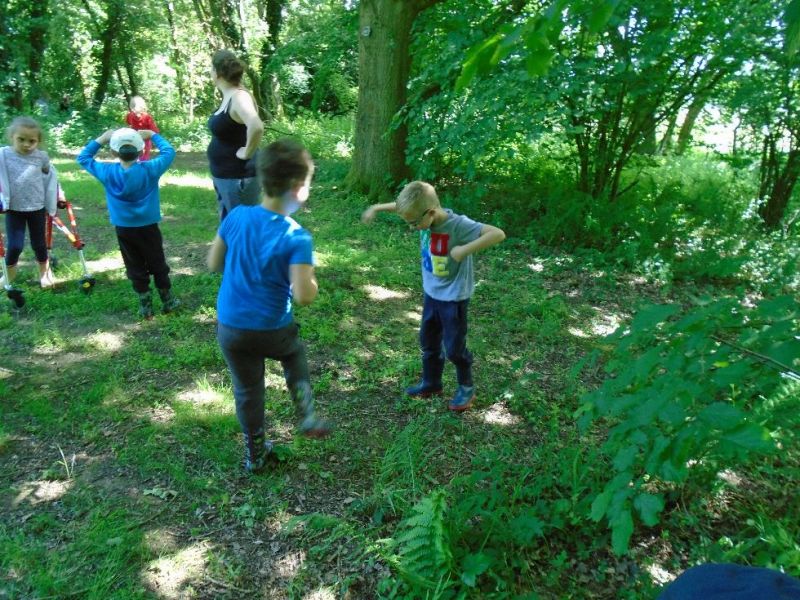 The first thing Group C noticed about Forest School this week was how much the ferns and the nettles had grown. We know that the rain and the sun together help the plants to grow.
The children in group C really enjoyed climbing all the way to the top of Forest School to find the Badgers Set that their friends had told them about. We know that a Badger is a nocturnal animals and we think that they are omnivores and they like to eat other mammals as well as berries and other plants.
We explored a brand new area of Forest School and had lots of fun exploring how to climb up some different types of trees. Some of the children had to think very hard about how to get down once they had got up quite high. What good problem solvers we are becoming.
Some of the other children created their own tools using sticks and stones found at Forest school to dig holes, to chip away at a piece of tree stump toe find out what was inside and some boys even compared their tools to those of the neanderthals we learned about on our School trip this week.
Some children decided to be curiosity hunters just like Mary Anning and came away with some Forest School treasure. What another exciting trip!
Group B 23/05/18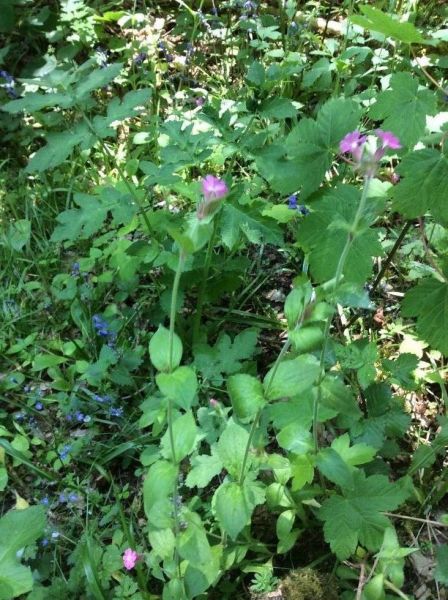 This week group B went to Forest School and some of the children decided to find the Badger's set which their friends had told them all about. It took a long time to climb up to the top of the hill but it was amazing. We dug around in the dirt and found some more bones to add to our collection. We also used the bank to slide down on our bottoms.
We climbed up to the top of some trees and saw even more from there. We noticed that there were some new flowers at Forest School, they were pink and tall and they were everywhere. The bluebells had started to dry up but lots of other plants were growing in their place.
The teachers encouraged us to follow a path to the bottom on Forest School and we saw an opening which amazed us. We started using the things we could find, such a twigs, sticks and stones and we began to dig for treasure. Lots of us were climbing the trees and we even taught each other the best ways to get up and down. We found a tree stump and decided to move it to base camp, it was heavy so needed more than one person, then we decided to roll it. Using other things that we found, we decided to make a campfire using sticks and leaves. Sticks are useful as instruments and for banging on the trees too! We can't wait for our next visit!
Group A 16/05/2018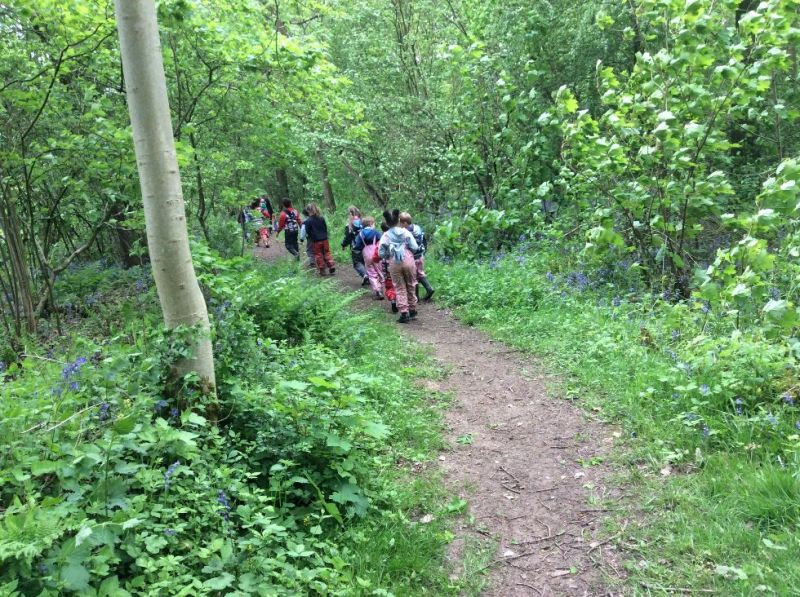 This week group A went to forest school and the children were amazed at the amount of Bluebells in the Forest. The children also noticed lots of other new plants which had grown since they last visited. The ferns had grown, dock leaves had grown but so had the stinging nettles.
The children had been told about the well that the other children had found and they had heard about the badgers set which group D discovered last time. The children went on a bit of a curiosity hunt and found the well and the badgers set. The Badgers set was on top of a big mound and it had lots of holes leading to the tunnels underneath. It was amazing to see!
We also found a den which looked very cosy and we think that it might be the place where a muntjac deer sleeps.
We also followed the path right down to the bottom of Forest School and found a clear piece of land with some amazing climbing trees in! We even found that the Path led us back up to basecamp! We will visit this part of forest school again.
Group D 09/05/18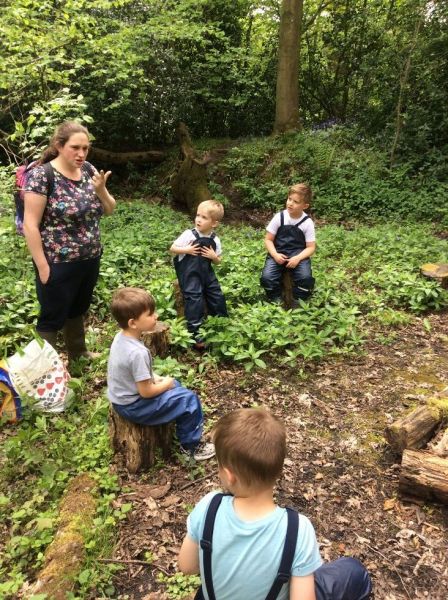 Group D had an amazing trip to Forest School this week. We noticed all of the amazing Bluebells growing and decided to find lots of the other plants growing on the site too. We even took some photos so that we could find out what they were. Our friends in the other groups had told us all about the well they had discovered so the children in group D decided to go and find it. They followed a track which led right up to the top of the hill and they found something amazing! It wasn't the well, it was a collection of big holes in the ground. The children though it might have belonged to a rabbit but after a discussion we decided that the rabbit were too small for a hole like that. We discussed the different animals it could belong to. We decided it must be a badger's set! How Exciting! We even saw the footprints the badgers had left when the ground was really wet and muddy.
After looking at the Badger's set we found the well our friends had told us about. We also followed the water to see where it took us. We ended up back down at the big puddle and even found some new trees to climb.
We really enjoyed ourselves and couldn't wait to tell our friends what we had discovered!
Group C 02/05/2018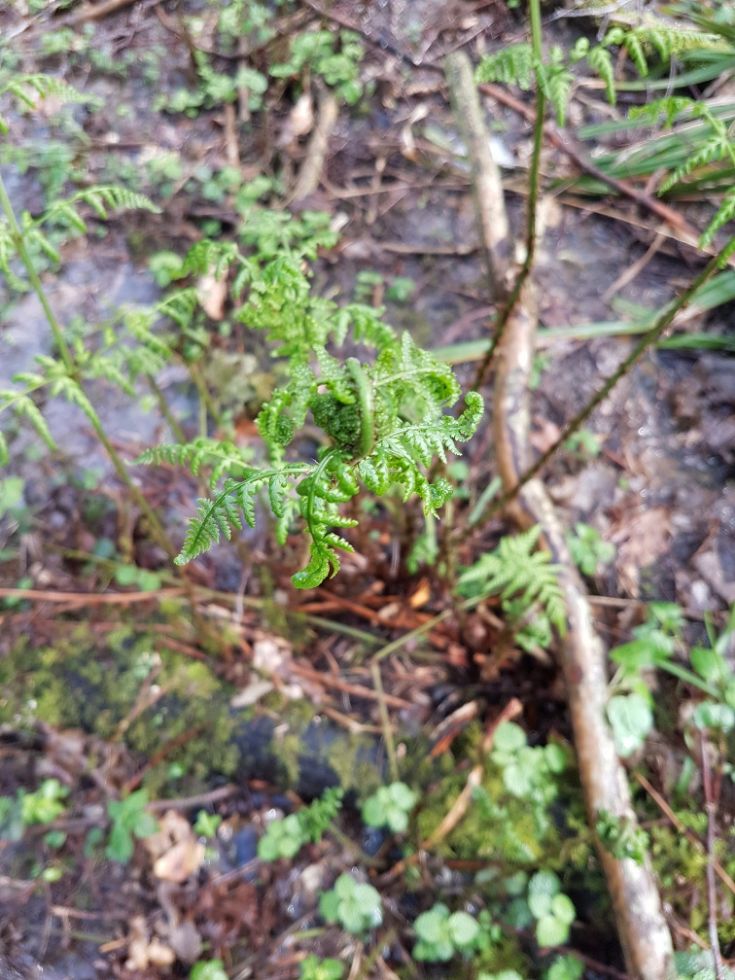 Group C went to Forest School this week and discovered some new things. We walked all the way up to the top of the hill and found the well that Group B had told us about. It was a long way up but was exciting to see. We also got lost (not really) and didn't know how to find our way back down. We saw the stream of water trickling down the hill and decided to follow the stream to find our way back to the big puddle at the bottom.
We also enjoyed jumping in the big puddle, the rain had filled it up.
We found lots of new places to climb this week and we saw lots of plants including bluebells and we were very excited to find out about them. We are even going to make some resources to help us identify all of these new plants.
Some of the children continued to build a bridge across the ditch and were seeing how far they could jump and whether they would be able to jump across the ditch. Lots of Maths learning today.
We can't wait until next time!
Group B 25/4/18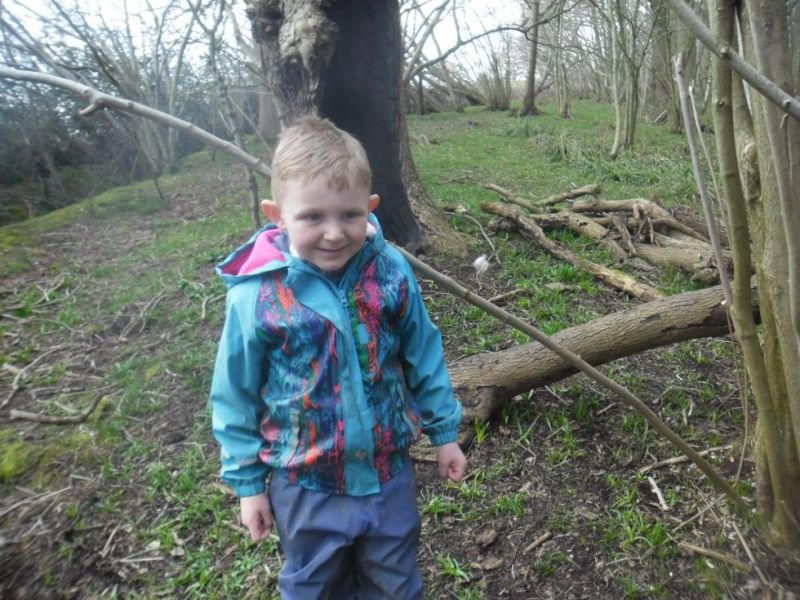 We had an amazing time at Forest school today even though it was pouring with rain. When we first arrived at forest school we could see the hundreds, maybe even thousands of Bluebells. They were beautiful!
We decided to explore the parts of forest school we hadn't seen before and we found some very exciting things. We found a well at the top of the hill and even found some woodlice living under the bricks.
They were very wriggly!
Some of the girls found an 'egg' which they decided to try and break open. They thought there might have been a creature inside. Some of the other children thought that it was a stone and not an egg. It was very hard to break open so we think it might have been a stone.
Some of the boys followed an animal track which led them to a burrow which might have belonged to a fox, badger or even a rabbit. We know that these animals are nocturnal and only come out at night.
As always at forest school, the children loved jumping in the big puddle and decided to try and stop the water filling up the big puddle by blocking it with sticks. We will have to see whether it worked when we visit next time.
Forest School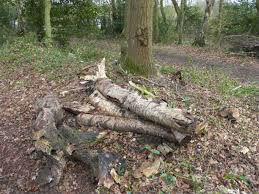 Forest School is nearly here!
The children are so excited to start Forest School and have even had an introduction to Forest School in class. We played some games which we will play and we learnt all about how to stay safe.
Children all brought home a letter with the group they are in and which dates they will be going to Forest School.
Please remember to send your child with warm clothes, socks, gloves and hat and boots on the day they are going to Forest School.
Group A will be going to Forest School on Wednesday 15th November. Please send your child to school with warm clothes and wellies in a clearly labelled bag.
Forest School was brilliant!
Group A had a wonderful time at Forest School yesterday (15th November). We explored the woodland area and found lots of exciting things such as hollowed out trees, large sticks which we had to drag and small sticks which we used to dig. We found a big patch of mud and we even got stuck! Our friends had to pull us out! We also found a tree to climb. We had lots of fun and cannot wait until we go next time. Look at the amazing photos.
Group B are going to Forest School on Wednesday 22nd November. Please send your child to school with warm clothes and wellies in a clearly labelled bag.
Group B had a wonderful time at Forest School (22/11/17). The children explored the woodland and found even more things to do. The children learnt how to move large sticks safely (by dragging them), they climbed trees, they made mud angels in the big patch of mud and even used the mud and leaves to create some art work by sticking it onto a tree trunk. We also looked under a piece of dead wood and we found a caterpillar hiding! It was amazing to see. We can't wait to go to Forest School again! Look at the new photos to see how much fun we had.
Group C are visiting Forest School on Wednesday 6th December. Please remember warm clothes.
Group C
Group C had a wonderful time on Wednesday 6th December. We explored the big muddy patch and even made a mud monster and used sticks for the arms. The children also climbed the big tree and even helped each other to get down! What good team work. We remembered that small sticks can be carried and large sticks had to be dragged to keep everyone safe. Some of the children worked together to build a shelter and other children lay down in the mud and even threw leaves on each other to cover themselves up. We can't wait for next time!
Group D is visiting Forest School on Wednesday 13th December (WEATHER DEPENDENT). Please send lots of layers of warm clothes and boots with your child.